This year, registrations for HPAT – Ireland 2022 opened in November 2021 and will close on 21 January 2022 at 5.15pm GMT. Every year thousands of students register to take this test. Here we look into exactly What is HPAT – Ireland?
What is HPAT – Ireland?
It stands for Ireland Health Professions Admission Test – Ireland. Fundamentally it is an admissions test used to assist with the selection of students into medicine and health professions degree programs.
To be eligible to study medicine in Ireland there are two key parts to the application process: applying to the CAO and applying separately to sit the HPAT.
Every student wishing to apply for admission to any of the following courses is required to take this test:
National University of Ireland, Galway
Undergraduate Medicine
Royal College of Surgeons in Ireland
Undergraduate Medicine
Trinity College Dublin
Undergraduate Medicine
University College Cork
Undergraduate Medicine
University College Dublin
Undergraduate Medicine
University of Limerick
MSc Occupational Therapy (Professional Qualification)*
MSc Speech and Language Therapy (Professional Qualification)*
What is the Test?
The test measures "logical reasoning and problem-solving skills, nonverbal reasoning and the ability to understand the thoughts, behaviour and/or intentions of people."
In this way the test complements academic achievement, by assessing skills in the areas of reasoning, understanding and working with people.
The focus is more on general skills and personal abilities rather academic abilities. Such skills have been identified as important for a competent health professional and therefore are at the core of the test.
The test is not concerned with academic knowledge and candidates do not require any academic skills at all to take the test.
What is the purpose of the Test?
The purpose of HPAT – Ireland is to assess the general skills and abilities developed over the course of a candidate's education and life experience. The reason they are assessed is that they are considered to be a vital part of the study and practice of medicine.
Such qualities include:
Be flexible
Have good thinking skills (critical and analytical)
Be able to respond quickly to new situations and problems
Have a well developed ability to understand and respond to patients' needs and individual situations.
How do I prepare?
HPAT – Ireland is not based on any curriculum or subject areas; therefore you do not need any special knowledge. Intensive preparation is not advisable or necessary. However, as with any test, some practice in answering questions of a similar type, and under similar time constraints as those found in the real test, is helpful and reassuring to most candidates.
ACER produces the only official HPAT – Ireland preparation materials. There are currently two types of preparation materials available: six publications in the form of e-books and an automatic scoring service for the Written English test (UL applicants only).
Practice Test 1 – 4  are equivalent to a full test and will take approximately 2.5 hours to complete under exam conditions. Additional Practice Questions and Additional Practice Questions 2 contain a collection of approximately 60 questions each that can also be used for additional practice.
The practice materials are available for purchase here.
* In addition to completing the test candidates applying to the MSc Occupational Therapy (Professional Qualification) and the MSc Speech and Language Therapy (Professional Qualification) at the University of Limerick are required to sit a 1 hour Written English component.
How do I register?
The only way to register for HPAT – Ireland is online. To register candidates must create an online account and provide a valid email address.
The test is independently administered by ACER (Australian Council for Educational Research).
When is the test?
The HPAT – Ireland test is offered once annually in February each year.
This year, the exams are taken remotely by the applicant over a 4½ hour session from Friday, February 18th to Monday, February 21st, 2022.
The test itself takes place via online proctoring, which means applicants will be monitored by camera at all times before and during the test.
In order to do this, Hpat applicants will require a desktop computer or laptop with a working built-in or external webcam and microphone, with internet speed of at least 2Mbps down and uploads.
The HPAT – Ireland Information Booklet 2022.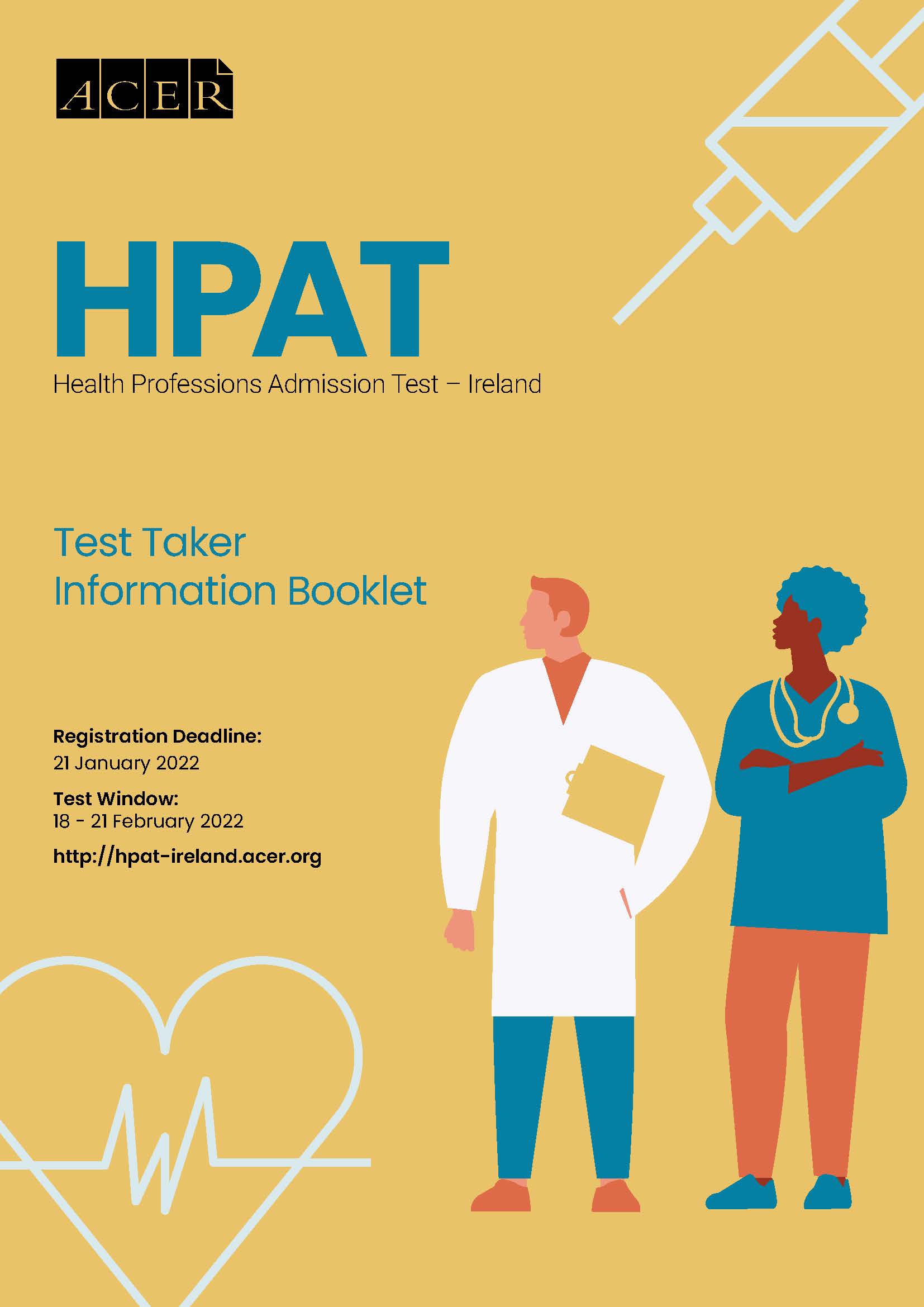 Source: hpat-ireland.acer.org